Announcements
*Welcome to our website!!! We hope you will look it over and consider joining our organization. We are looking for members and volunteers to help support our cause!
*The historic Oberlin House will be open for Christmas on the Canal! Stop by 1:00, 2:00, 3:00 or 4:00 for a free tour!
*For our current meetings and events be sure to check out our Event Calendar.
About the Canal Fulton Heritage Society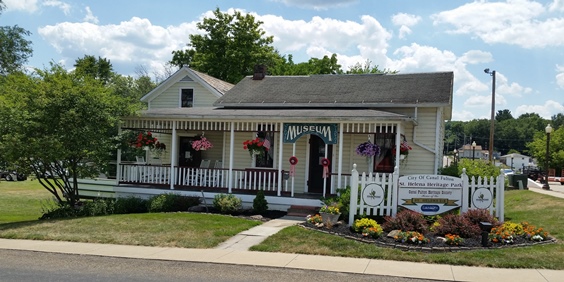 Since its incorporation in 1968, the Canal Fulton Heritage Society has existed to: "advance, encourage and promote the design, development and preservation of an historically attractive environment for the [City] of Canal Fulton, Ohio and its environs." In accordance with this purpose the society owns and maintains several properties around town; built and operated the St. Helena III canal boat; provides or assists in various educational opportunities (including Museum tours and school programs) and keeps a collection of photos, documents, artifacts and memorabilia of Canal Fulton.
A non-paid board of trustees oversee society operations and part-time staff assist in day-to-day functions. While the Heritage Society typically receives some income from rent, resale and investments (including an endowment fund) it very much relies on your membership and donations.
Contacts
Our current board of Trustees are:
Ed Shuman - President
Tim Schlernitzauer - Vice-President
Margo Drozda - Treasurer
Rob Hodges - Recording Secretary
Ginny Greenhill
Dennis Thornton
Gary Johnson
Alpha Mayfield
Brittany Dobish

Our current HPC representative is:
Linda Lynch
Please feel free to contact us by any of the following means:
Canal Fulton Heritage Society
116 South Canal Street
Canal Fulton, OH 44614

(330)854-3808
office@cfheritage.org
www.cfheritage.org

Hours of Operations
The Office & Archives
Our office and archives are located on the second floor of the historic William Blank House. We are finishing the setup of our office and archives and would soon like to be able to host public hours - call or stop by for a visit.
The Museum
The Heritage House & Old Canal Days Museum is open to the public during the canal boat season (May-October):
Saturday-Sunday, 12:00 noon to 4:00 PM
Admission is FREE (however, donations greatly help to off-set operating expenses). Museum Tours can also be arranged in conjunction with St. Helena III canal boat Charters. Private Museum tours outside of the above dates/times can be arranged for $2/person (minimum charge of $10) by contacting us. Please give us a 2 week notice so that we can accommodate your group.
The Oberlin House
The Oberlin House is currently open to the public select times through the year:
The Old Canal Days Festival
Christmas on the Canal
Admission is $2/person (though, donations are also appreciated). Oberlin House tours may be scheduled in coordination with your St. Helena III canal boat Charter. Other private tours for $2/person (minimum charge of $10) can also be arranged by contacting us. Please give us a 2 week notice so that we can accommodate your group.
Canal Boats
While the City of Canal Fulton now owns both of the St. Helenas, the Heritage Society still has a concerned interest in these vessels, their history and the part they continue to play in our community.
The St. Helena II canal boat stands as an example of Stark County's and Canal Fulton's commitment to preserving our heritage. She is currently open during select hours but you are certainly welcome to walk around her for a glimpse of our town's canalling past.
The St. Helena III is a horse drawn canal boat ride that takes visitors along an original section of the Ohio & Erie Canal. Departing from historic downtown Canal Fulton, passengers will enjoy a one hour round-trip to Lock 4 Park. An on-board historian will relate history of the canal and the Canal Fulton area as well as point out locations of interest along the way. The boat typically operates May through October and offers a variety of public rides, special events and charters.