Museums and Properties
The Canal Fulton Heritage Society owns or partners with several properties around town. Each are open at various times for your convenience and we encourage you to stop by and learn some more about our town's unique history. Click the map link, *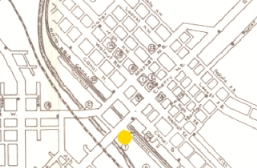 located at the top left of each of the following pages, for directions:
Located on the site of the former City Hotel, the Heritage House and Old Canal Days Museum offers visitors a glimpse into some of the life and lifestyle of the canal and early Canal Fulton.
The Oberlin House, set up as a living history museum, shows what life was like for early working class families of the 1800's.
Within Canal Fulton's historic district and representative of some of the prosperity of the town's later residents is the William Blank House built in 1901.
Lock 4 is the site of one of more than a hundred lift locks that carried canal boat traffic across this great state.
The historic McLaughlin Dry Dock is the only original, operating dock of its kind in the entire state.
Beginning in 1970, Canal Fulton could once again boast of being a "port" city as the St. Helena II would glide along the historic banks of the Ohio & Erie Canal bringing with it life and vigor to this once forgotten waterway.
Within the Museum is our Gift Shop which offers visitors a variety of ways to commemorate their visit to this historic community.