For St. Helena III
Canal Boat Operations
please contact:
Canal Fulton Canalway Center
125 Tuscarawas Street
Canal Fulton, OH 44614
(330) 854-6835
canalway@cityofcanalfulton-oh.gov

OR
Check out the City of Canal Fulton's website.

The St. Helena III: huh...I guess cement DOES float!
When deciding to replace the St. Helena II, the Heritage Society wanted a vessel that would serve the community for many years to come while maximizing available resources. Therefore, having researched a replacement, the Board of Trustees decided upon a "ferro-cement" boat. This type of construction was employed in other boat attractions around the country and Trustees felt it would work here too.1 While this design style was a step away from the authenticity of a wooden craft, a steel and cement boat offered a variety of advantages. Cement doesn't weather as wood does; in fact, a properly constructed cement boat may last longer than a hundred years (perhaps much longer) with minimal maintenance efforts and costs in comparison to a similar wooden boat.2 A craft so constructed would draw less energy and finances into maintenance thus allowing more efficient use of the operations resources. The initial cost was another factor. Estimates placed both wooden construction and fiber-glass at more than twice the expense of a comparable ferro-cement vessel (which the Trustees estimated they could get for about $80,000).3
The St. Helena II plans were then adapted for construction of a cement boat.4 Heritage Society personnel would spend the next months conducting a letter writing campaign and were met with success when in 1988 Ohio legislators wrote into the state budget $80,000 to be specifically allocated for the Canal Fulton Heritage Society's new canal boat!5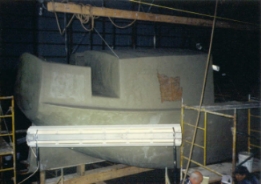 The McLaughlin Dry Dock would once again be bustling with canal boat construction. And once again, Canal Fulton residents rose to the challenge and commitment of taking on the rather imposing task of building a canal boat. After a steel skeleton was assembled, metal mesh was wired to the body from stem to stern, followed by the all-important (as well as incredibly laborious and demanding) cement application. A wooden face would then be applied to the exteriors of the cabins and the wrought-iron cleats and other hardware from her predecessor would be clad to the St. Helena III.
A Labor of Love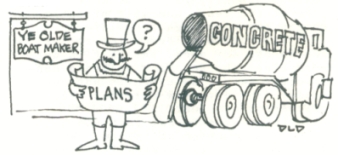 Sound pretty straightforward and simple? You've got some welding, a bit of wire-tying, smear on some cement and bolt on some wood - right? Ah, if only life were as simple as it looks on paper. The largely volunteer crew certainly ran into a number of hiccups along the way. Just as the St. Helena II builders had never built a wooden canal boat before, the builders of the III had never undertaken construction of a cement canal boat. Just as with the II, the builders got a professional set of blue prints in their hand, consulted experts in related fields, some of the most technical aspects of the work were contracted out and many, many hours of self-sacrificing devotion were poured in. Her completion would end up being pushed back several times increasing both the construction time and the cost (it was that pesky cement applique which kept causing them fits).6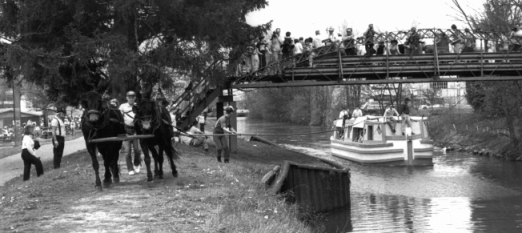 Despite the various set-backs, these stalwart individuals, who had put their time and reputations on the line, were finally ready to declare her sea-worthy. Having given up both days and nights to see her completed, they could breathe a sigh of relief when all the birthing pains were done and she set-sail on her maiden voyage on May 2, 1992.7 The community had shown once more what could be accomplished by hard work and lots of willing hands.
We are all indebted to the many, many individuals who have invested a portion of themselves into this community landmark, either through the initial construction, or any of the more than 20+ years [and counting] of operations that she has seen.
A Community Icon
Admittedly some of the novelty of these boat rides have worn off since 1970, and Canal Fulton can no longer boast of having the only canal boat in operation - there are 3 others in Ohio and several more throughout the nation. Nevertheless, every year crew of the St. Helena III are met with awe-struck school children who, "had no idea that horses could pull a boat!" Nor have her operations failed to delight our adult and senior visitors with the placid serenity of a journey into a by-gone era.
Each year, the St. Helena III attracts thousands of visitors and as such is but one piece in the larger economic puzzle. Each of the Canal Fulton area's many unique attractions and businesses all have a part to play in the tourism, recreation, education and "life" in general of our community. We here at the Heritage Society are especially proud of the part that we've been able to play in contributing to the identity of this historic town through these rides.
Just as it was the canal which put Fulton on the map, so it is that the canal has continued to be a crucial and iconic part of the city's identity.
Thus, we'd like to think that our boat and mules/horses have been something of mascots for the town - a way for folks today to not just relate to the community but also reconnect the town with its origins.
Boat Operations Today
Recognizing the importance and advantage of local control, the Stark County Historical Society entrusted the St. Helena II to the Heritage Society in 1975. For the next three decades, the Heritage Society was honored to have provided for the community by maintaining canal boat rides. Indeed, no other program or operation better fit our mission. However, facing a declining membership and ever persistent needs in our other properties, we reached a point where we could no longer give the boat operations the attention it demanded and deserved. Thus, in 2009 the City of Canal Fulton partnered with us so as to keep these rides afloat. The City, who had lent invaluable manpower and resources in the years prior to this, took over staffing, management and overall operation of the boat allowing the Heritage Society to assume a role of support.
Believing it to be in the best interest of the operation as well as our organization, trustees began dialogue in 2014 to transfer entirely the ownership of the boat and assets to the City and in early 2015 said transfer was made official. Modern residents of Canal Fulton should be proud that they live in such a town that is so devoted to preserving its historic roots.
Even while the Heritage Society no longer owns the boat, we still have her best interests at heart and will continue to lend our support.
Web Page Notes
1. The US Navy even published an abstract listing the advantages of ferro-cement boats. Their report concluded not only that Vietnamese River patrol craft could be constructed of ferro-cement which could achieve 23 knots and were fully combat capable, "it is also considered that the techniques used here may have potential commercial and recreational boat building application as an attractive alternative to more expensive steel, aluminum or fiberglass hull systems."
Commander Karl M. Duff, USN Naval Ship Systems Command and James R. Peoples Naval Ship Research and Development Center, "The Application of Ferro-Cement to Planing Hull River Patrol Boats," Naval Ship Systems Command, Department of the Navy.
John Samson and Geoff Wellens, How to Build a Ferro-cement Boat (Vancouver, Canada: Samson Marine Design Enterprises Ltd., 1968), 9-12.
3. Canal boat staff recieved from a boat builder (who was familiar with the ferro-cement canal boat operating along the Chesapeake and Ohio Canal in Great Falls, Maryland by the National Park Service) an estimate for construction of a new ferro-cement boat to replace the St. Helena II. He mentioned that an initial estimate of $84,840 was considered to be on the high side.
Craig Watson, Boatbuilder, various letters and reports to Canal Fulton Heritage Society, July - October 1987, CFHS collections.
4. They sent the plans away to Hartley and Brookes Boat Designs in England, who were familiar with planning cement boats
Hartley and Brookes Boat Designs, St. Helena III architectural schematics, CFHS collections.
5. Heritage Society officers received the much anticipated letter and payment from the Ohio Historical Society (serving as a 'pass through') stating that it had, "recieved approval to release $80,000 from the State of Ohio under the provision of H.B. 810, CAP-746 for the Canal Fulton Canal Boat."
Letter from the Ohio Historical Society to the Canal Fulton Heritage Society, 28 October 1988, CFHS collections.
6. The Canal Fulton Chamber of Commerce and other generous citizens helped raise funds and manpower for her completion
...further footnote and reference forth coming...
...further footnote and reference forth coming...