The Oberlin House Museum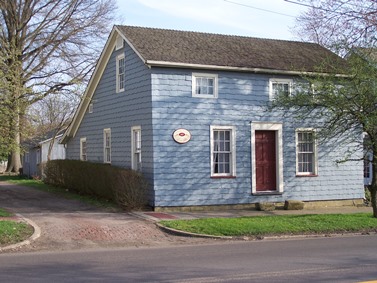 Built in 1847, this typical frame-house, with two rooms downstairs and two upstairs, was modified into the popular Colonial Salt Box style.1 It stands today as a vignette of how variuos canal-era families lived. The house, named in honor of one of the several families who resided here, is furnished in an 1800's style. Frequently, a costumed tour guide leads visitors through the property.
Mr. and Mrs. Tromp
In the mid-1800's, Canal Fulton was an attractive little place to settle; opportunities brought by the Ohio & Erie Canal would shape the course of history for the community. Business was booming along the Ohio & Erie Canal which in turn created economic opportunities in this former frontier village. Immigrants and migrants alike began arriving to take advantage of not just the situations available to canal boatmen and merchants, but also all of the other various jobs needed to support a growing community. Whether newly-arrived from the "old country" [i.e. Europe] or just relocating from a crowded family homestead in the colonial states, out here in the country a young family had space to grow. Indeed, the young Canal Fulton attracted all kinds.
Immigrating from Germany, William Tromp heeded the attraction to this new world bringing with him the skills he learned from his furniture-making family. On the advice of his brother about the growing prospects available out west, William and his wife Elizabeth (the couple having met in New York where they then lived for a time with William's brother) strode out here with their young family in tow. Here they could carve out a life for themselves in this bustling little in-land port. Calling this cozy house their home, William would put his skills to use by offering his services to the town through the 1870's.2
The Oberlin Family Tree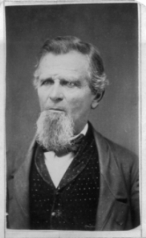 Born in what would become the greater Canal Fulton area, Joseph Oberlin entered this world in 1813. Throughout his early married life he, like most others in the surrounding countryside, was a farmer.3 His family, who hailed from Lancaster County, Pennsylvania, were among that pioneering generation who had forged through virgin wilderness via ox-drawn covered wagon, warily crossed mountain trails and subsisted on frontier hunting and gathering. They survived through their "determination to make their wishes materialize and supported by a strong faith in the God of our fathers."
Joseph and his wife Sarah, as was not uncommon in that day, would know both hope and heart-ache. Sadly, four of thier children would die in infancy; however, they would also know the joy of watching five of their children grow to adulthood. Their eldest child, Christian, born on the family farm on Dec. 24, 1841, would live to become one of Canal Fulton's prominent citizens.4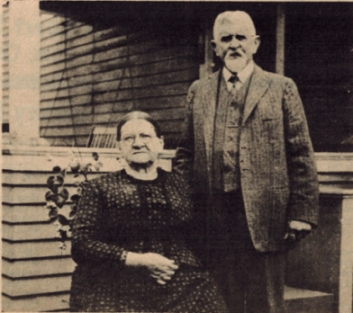 As a young man, Christian would serve the Union during the conflagration with the Confederate States, though national events did not tie up all of his time and on Oct. 22, 1863, he married Sarah Hartong.5 She herself was born in Lancaster, PA and at the age of 6 moved with her parents and surviving siblings to Canal Fulton.6 For a while, Christian would take over his family's farm but the couple would eventually sell it and move into town. By the late 1800's, they would reside in Tromp's two-story frame-house.7
Christian would work for a time as a painter and wallpaper hanger, eventually working with C.R. Daily's undertaking business.8 The home owners' carpentry skills would also be put to good use when he added an additional two rooms to the back of the house; thereby, converting it into the "salt box" style, which had been a popular trend on such houses since the colonial period.9 No doubt, Christian and Sarah were ensuring they would have all the space needed for a growing family - as indeed the couple was blessed with four daughters. No doubt the garden (which their daughters and even grandaughters would remember working in) kept in the back yard and all the canning they did from it helped the family's resources from being spread too thin.10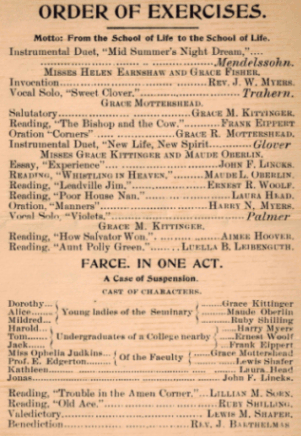 Christian would work and live a long full life before retiring, all the while watching his daughters grow to woman-hood and marry. Their youngest, Maude, was born in 1886 - the same year Canal Fulton's new school was opened directly across the street from the home.11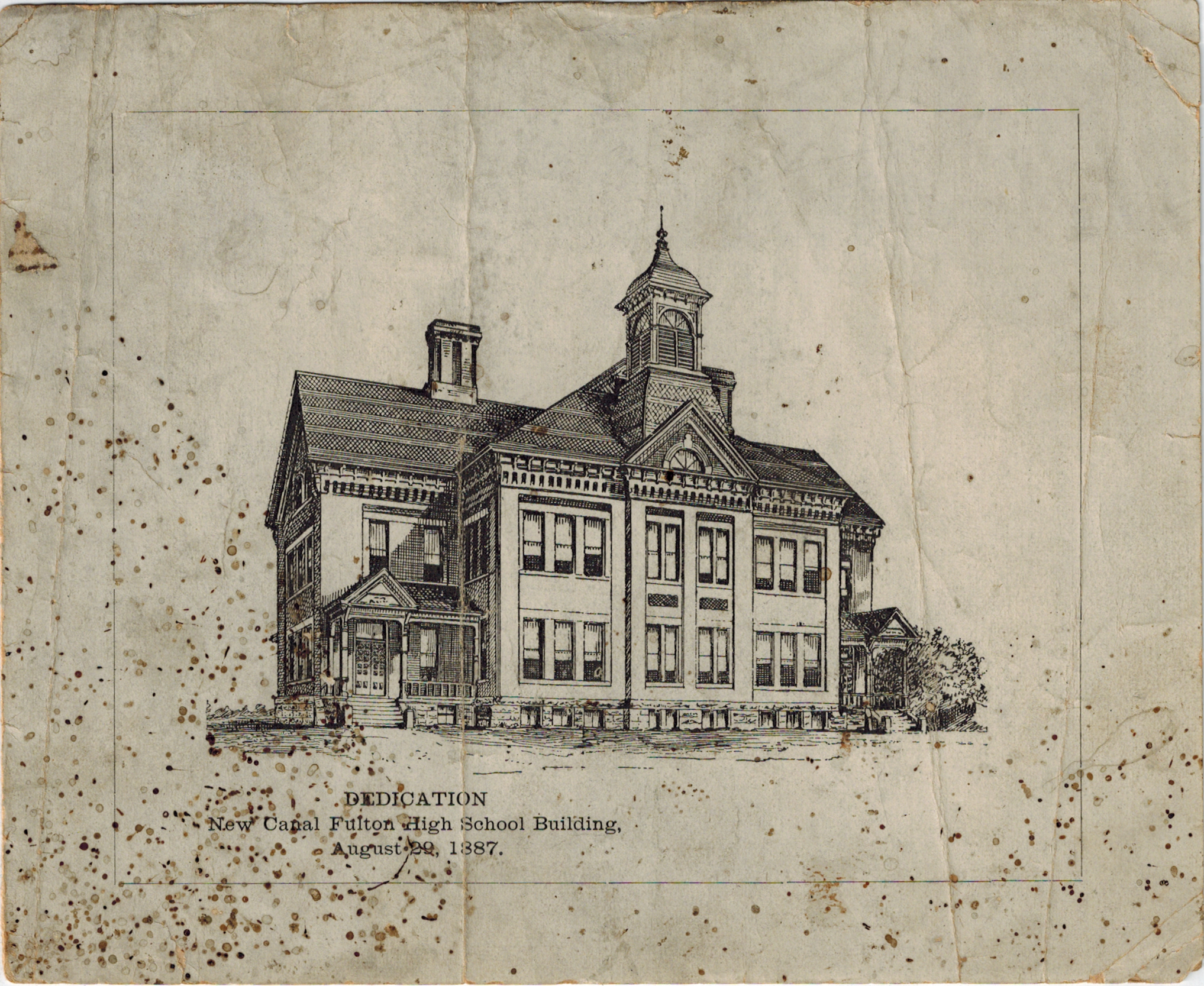 She would graduate from this same school in 1904 and would soon after marry Warren Burgert12 - the ceremony and reception all being held right there in the family home.
In 1907, Maude and Warren would give birth to their own daughter, Gladys (born in this vary home - the property at this time was owned by Frances - Maude's elder sister).13
The Oberlin Family Legacy
In the years to come, Gladys (Burgert) Mitchell, would come to hold very fond memories of the house where she was born and where her family had lived. However, Gladys wanted to not just preserve her ancestors' stories but also share them with the town. It became her goal to not only honor her parents and grandparents but indeed spur on the whole Canal Fulton community to work toward preservating its own history. Thus in 1972, she and her husband bought the property so they could donate it to the Heritage Society as a museum.14 Generous town residents responded in turn by donating time-appropriate furnishings to the Society and soon the house was dressed up in the style of an 1800's working-class family.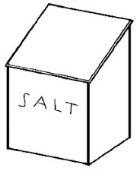 This whole project was an impressive undertaking for the young Heritage Society but, with hard work and the generosity of the community, it paid off.
What Old Architecture Can Teach Us
This style of frame-house became popular in the New England colonies during the 1600's. As English immigrants who had settled in the colonial states continued spreading westward, this style home followed. It increased in popularity because a simple extension of the roof line down to the first floor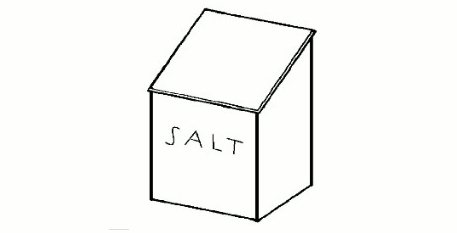 allowed a further addition onto the house, making it easy and affordable to accommodate a growing family. Such an addition resembled the look of the boxes where salt was stored in the kitchens of early American homes during the colonial period; thus arose the "Colonial Salt Box" style home.15
Building designs are one of the wonderful tools that historians can use to help interpret the events of the past. Architectural styles can indicate anything from an owner's personal preferences to even popular social ideologies of the day. For example, within the 1700 to 1800's, the revival of Greek style buildings appealed on a philisophical level to the democratic sensibilities of these former colonial subjects.16 Canal Fulton has many examples of this popular Greek Revival style.*
Old architecture also reveals available types of building technologies and techniques. Take for instance the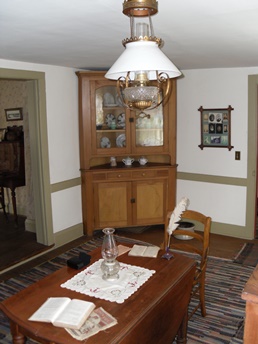 steep slope of a roof, evident on many of Canal Fulton's earliest houses. This slope was standard in early European designs in order to allow water to readily drain from the semi-permeable thatching used as roofing material.17 As building construction technologies advanced and materials improved, roof slopes were able to become much more shallow.18 Compare one of the many Italianate style houses you can see around Canal Fulton from the late 1800's to any of the various frame-houses that had been popular prior to this.19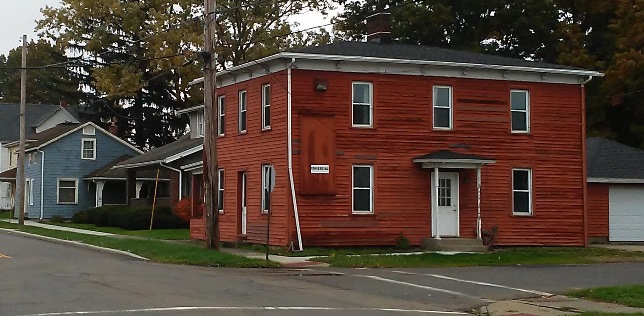 In a way, each new generation of architect, having improved materials and methods, is saying to its predecessors, "Look at what I can do..."
The frame-style of the Oberlin house reveals it was built for the simple utility of providing a home for a modest working class family. Contrast this with the more regal Victorian style of the William Blank House.20
Canal Fulton, like many old towns, shows a fascinating mixture of building styles, indicating the variety of architectural changes the town has seen throughout the years.
The Oberlin House Today
This home continues to model the lifestyle lived by early Canal Fulton residents. It is a look back at a simpler time era - a reminder of both the hardships and accomplishments of our ancestors. The house also stands as a sign of the commitment a daughter had for the memory of her parents' and grandparents' stories. In sum, it represents the dedication that this community has shown to preserving a piece of its own past.