Canal Fulton in the 1913 Flood
In 2013, one of our members put together a presentation showcasing the massive flooding that Canal Fulton, as well as the rest of Ohio (and even beyond), had witnessed a mere one hundred years before. If you've ever wondered what it was like to have lived through such a disaster - the most devastating flood ever recorded in this area - then we hope these photos and interviews may help give some insight.
"Commemorating the Flood of 1913" showcases Canal Fulton in the midst of the regional disaster that swept through Ohio. While no mere photo could encapsulate the full scope of such an event, we have herein attempted to relate the origin, destruction and aftermath of this tragedy through use of original photos and interviews by those who witnessed the flood first hand. This 37 minute video presentation describes how these devastating (and in some places deadly) waters effected the area. Specifically, it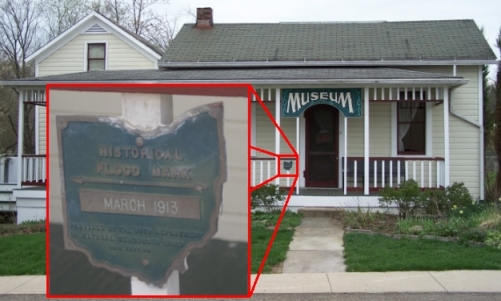 points out scenes in downtown Canal Fulton (which will no doubt be familiar to current residents) showing just how high the waters got during that fateful week-long event.
Flood Plain Awareness
In 1982 the Ohio Department of Natural Resources, as a part of a flood prevention and awareness program, provided a plaque as well as 1913 flood data to areas within flood zones. Plaques were to be mounted and displayed as a means of alerting the public to the extent that flooding has previously occurred at such a location (and thus may conceivably occur again).1
Web Page Notes
1. This plaque was to be mounted at about 953 feet above sea level within the vicinity of downtown Canal Fulton [about 97.1 miles above the mouth of the river] (though the 'appendix' portion of this letter names 942.2 feet at the 'downstream' end [96.6 miles], the coresponding graph clearly indicates it was about 10 feet higher at this point - likely, this was just a mishap in reading the graph, with all those intersecting lines in such a tiny little space, it is certainly understandable that it could be confused).
US Army Corps of Engineers, 1970 Tuscarwas River Flood Profile, Letter regarding flood plane awarness from Ohio Department of Natural Resources to City of Canal Fulton 21 June 1982, CFHS records.