Office & Archive
Days: Mon-Wed, Fri
Hours: 1:00-3:00 PM (call the office ahead of time to be sure it is staffed)
Address: 116 South Canal St., Canal Fulton, OH 44614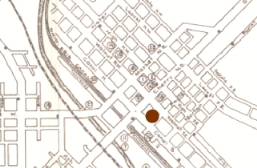 The "William Blank House"
Built in 1901, this 1 Queen Anne style Victorian house offers a well-rounded addition to the Heritage Society's properties. While the St. Helenas and Museum relate the town's canal history and the Oberlin House shows blue-collar life during the 1800's, the William Blank House is indicative of the prosperity enjoyed by white-collar residents during the turn of the 19th century.
William Blank and his wife Harriet would contract the Gilcher Lumber Company to build them this stately home. 2 Harriet herself drew up the plans for the house and, in true Victorian style, designed into it both utility and elegance. The patchwork or "gingerbread" siding along the tower was well in keeping with the fashion of such homes and she incorporated servant stairs from the kitchen, walk-through closets and pocket doors to suit her own tastes.3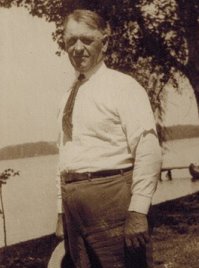 William, and his elder brother John, ran a grocery store in town through the early 1900's [it was just across the road from William on the south-east corner of Cherry and Canal Streets].4
The brothers would also have partnerships in the B & B Coal Company.5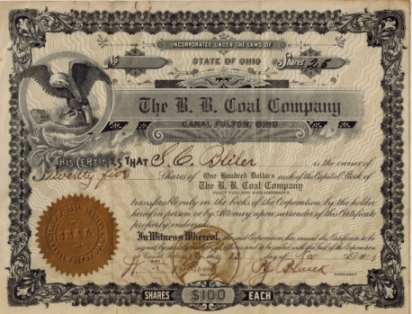 Indeed, the Blank family dabbled in many interests around town - their father (a coal miner by trade who had immigrated from Germany in 1865)6 would come to build and operate the French Cereal Company.7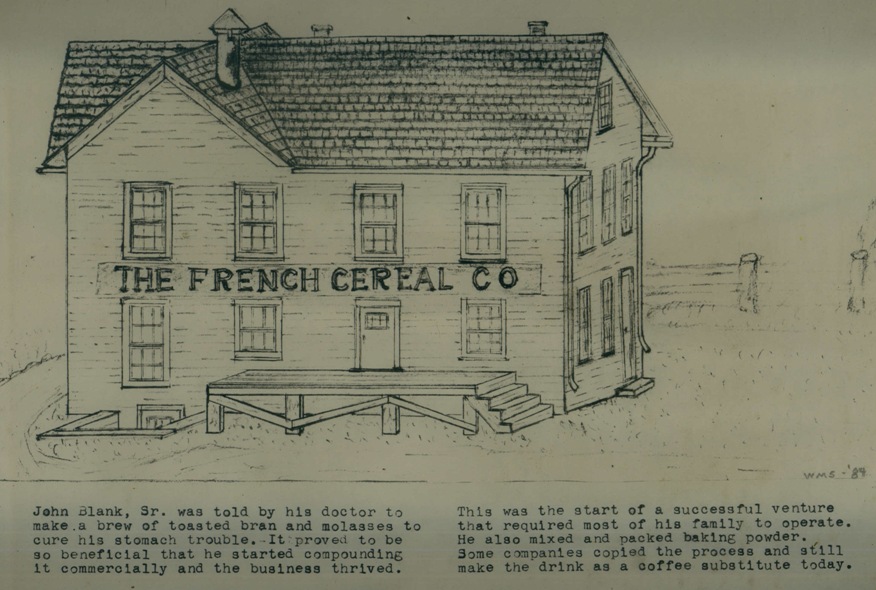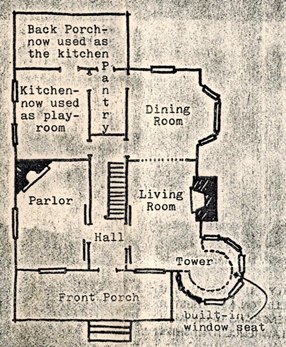 William and Harriet would have three children. Their youngest, Dorothy, who went by Isabel - her middle name - lived most of her life in her parents' home at 116 South Canal Street where she would make many happy memories. For example, "Lil," was the horse her father kept stabled at the back of the property to make grocery deliveries with.8 Dorothy would remember her father drawing a supply of water from the cistern in the back yard and pumping it up to a storage tank on the third floor for the family to utilize throughout the day. She also recalled fondly that her father played the bass horn and sang in the Canal Fulton Imperial Marching Band.9 The roof of the family's front porch proved a convenient stage for performances, affording the crowd of townsfolk gathered below a nice view of these entertainments.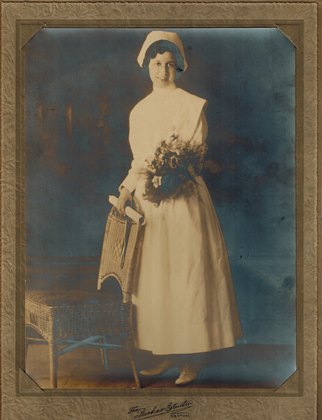 No doubt, Dorothy's fondest memories of the house were in raising her own children here (having had six kids, there is no doubt that she would have lots of stories to tell).
Preserving the past for the future
In 1989 Dorothy deeded the property to the Heritage Society so that this grand Victorian house could stand as a reminder of all those memories of yester-year.10
The house has had various waves of repairs over the years to try and restore it to its glory days. These efforts are in no small part due to the generosity and support that the community has shown. Truly, we don't know where we would currently be were it not for the many neighbors and business people who have over the years supported our Heritage Society with thier gifts of time, talents and resources toward fixing up and preserving this property. Because of these efforts the first two floors of the house have been almost entirely refurbished. Much of the electricity and plumbing have been updated, heating [and cooling] units have replaced the cumbersome steam-boiler and painstaking interior work has been accomplished to bring the old house back to life.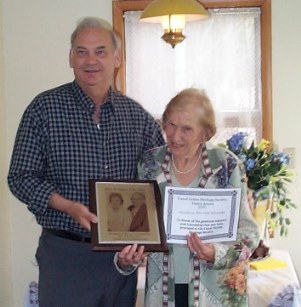 With many of these major tasks being completed, we have been able to rent out portions of the property over the years for various retail and office businesses. This income has provided funds needed to maintain operations of the Society as well as helping to provide repairs to our various properties - thus ensuring that the legacies which devoted residents like the Hardgroves, Gaineys, Oberlins and McArdles have entrusted to us will not be lost.
The Blank House Today
Our efforts continue to be a work in progress. Indeed, there has been so much to do and keep up with over these past years that our members and volunteers have been taking stride to "advance, encourage and promote" one step at a time. Our ever expanding archives and collcetions have outgrown Gainy's "world's smallest museum" and volunteers have been focusing on moving up our office, archives and holdings to the William Blank House. Meanwhile, our trustees' and members' efforts continue to go toward maintenance and repair of this historic property (and little by little the work is getting done).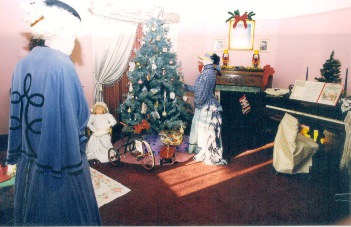 The City of Canal Fulton also has our thanks for providing maintenance of these grounds.* Nor must we fail to recognize the support of our tenants over these past years. Their efforts at keeping up the various museum and history displays, providing labor and materials for repair work, decorating the house and maintaining flower beds have been incalculable steps to preserving the unique atmosphere that the Heritage Society can offer this historic town.
Web Page Notes
1. Not to be confused with the residence at 427 High Street, which was built for Pete Blank - William's younger brother.
Streby, Nostalgia, 37.
Both homes (with their dormers, towers, and other stylized fashions) are representative of the Queen Anne style of architecture.
McAlester, American Houses, 263-287.
Walker, American Homes, 150-153.
Lois Paulus, "Homemade McArdle Home," The Canal Fulton Signal News, 9 May 1979.
McAlester, American Houses, 264ff.
Walker, American Homes, 126, 150.
Harriet received schooling from the Nottingham Convent School in Cleveland.
[Gale]Hartel & [?]Murphy, Canal Fulton Heritage Society, Ohio Historic Inventory - survey of historic buildings within Canal Fulton's Historic District, 8 February 1979, CFHS Records.
4. The Blank Bros. Grocery store as pictured here *
during the 1913 flood.
Photo of Blank Brothers Grocery, CFHS collections.
5. William was the Secretary of the company.*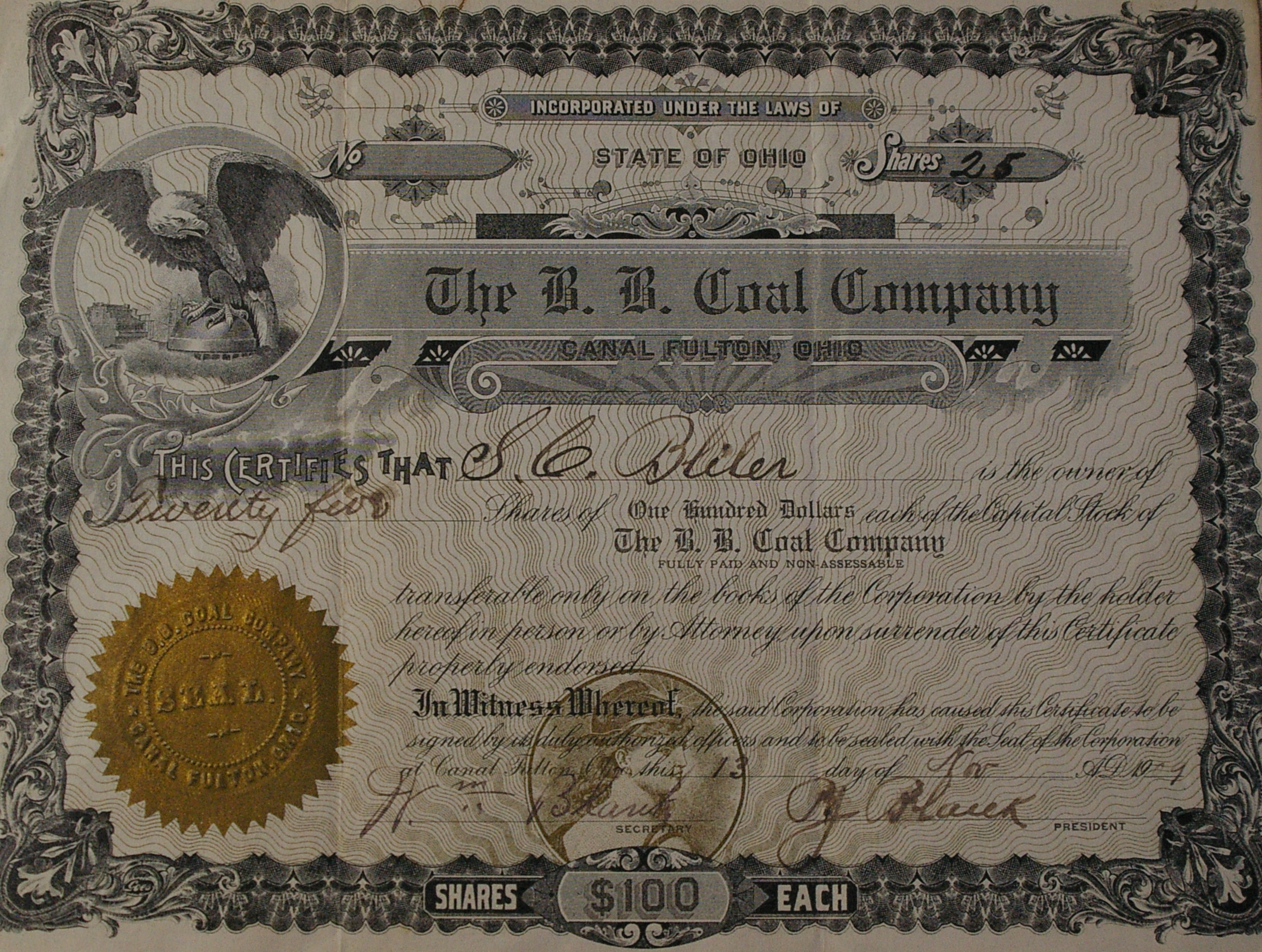 Streby, Nostalgia, 4, 5.
B&B Coal Company stock certificate, CFHS collections.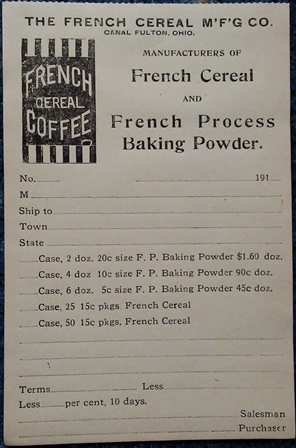 US Census Records, State of Ohio, County of Stark, Inhabitants in Lawrence Township-Canal Fulton:
1870: page ?
1880: page ?
1900: page ?

Streby, Nostalgia, 5.
Waldo Streby, sketch of the French Cereal Company.
Paulus, "McArdle Home."
- a job that her brother Arnold did before he left to work at their grandfather's mill. Arnold's various duties around the village would make him well acquainted with almost everyone in town. *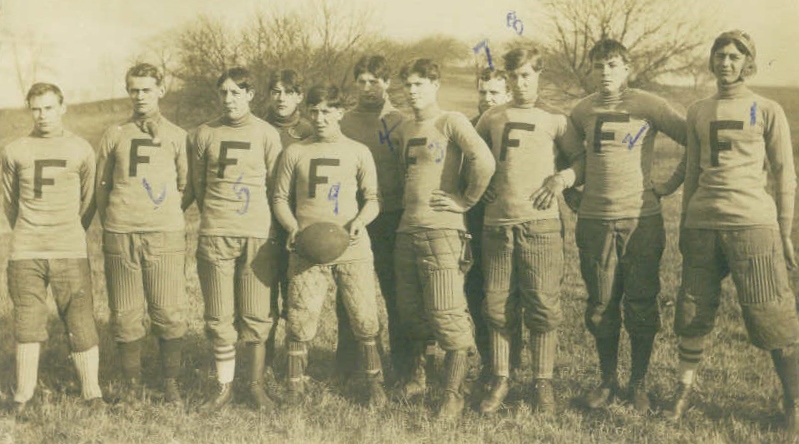 Photo of Arnold Blank on football team, CFHS collections.
Paulus, "McArdle Home."
10. Mrs. McArdle loved the old house and all the family memories she had there - she didn't want others to reside in it but for it to remain the "Blank House"
Notes/letters from Dorothy Isabel McArdle, CFHS records.
Quit Claim Deed, Dorothy Isabel McArdle to Canal Fulton Heritage Society, 2 October 1989, CFHS records.