Programs and Activities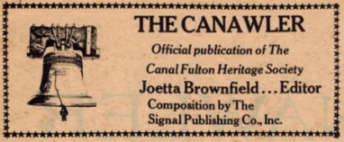 "So what does the Heritage Society have to offer me?" you may be asking yourself. Other than tours of our historic homes and properties and access to our collection, the Heritage Society has offered or contributed to a variety of programs and activities throughout the years. Current programming and activities are directly dependent on the abilities and availability of our membership so be sure to check in to see what plans we have in store!
St. Helena III
The City's operating canal boat the St. Helena III offers several ways to learn about and enjoy the Ohio & Erie Canal. Heritage Society members still proudly contribute to these rides. Boat operations developed as a community endeavor and we continue to believe that they deserve the support of the whole community - we'd just like to do our part.
Bicentennial Quilt
In 1976 a group of local ladies quilted thier way into our community history. Among the nation's various Bicentennial celebrations, these local Piecemakers quilters commemorated and preserved Canal Fulton history with their artful stitching.
Self-Guided Tours
Either for visitors planning a day trip to this historic town or residents just looking for some leisure, the Heritage Society offers a few walking tours. These are just one of the many ways we encourage the preservation and appreciation of Canal Fulton's history. A variety of other tours, pamphlets and brochures are also put out or conducted by other organizations and businesses around town. We encourage visitors to engage in all of these so they are sure to get a well-rounded view of our local story.
The 1913 Flood
Ever wonder about these pesky floods Canal Fulton keeps getting? In 2013 (in commemoration of the 1913 flood - the worst flood the area has seen), we threw together a presentation answering this very question. "The 1913 Flood" shows firsthand what this devastating flood did to this little river valley. The project is on-going and will be updated as more research is made available. If your family has any stories or photos of Canal Fulton during this epic event and you would like to share them with the community please feel free to contact us.